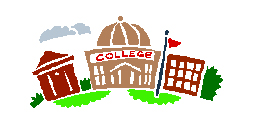 Higher Education, Colleges,
Universities, Institutes, Etc.
Speaking of colleges and universities, what could be more apropos than University Parkway—one of Sarasota-Manatee's principal east-west roadways—leading to no less than seven institutions of higher education in Sarasota and Manatee Counties? Indeed, though people tend to regard Southwest Florida as a resort community—or as Florida's cultural hub—we can also be justifiably dubbed a college town. Within minutes of University Parkway are found such noteworthy institutions as The University of South Florida/Sarasota-Manatee, New College of Florida, Ringling College of Art & Design, Keiser College, Argosy University, Eckerd College and the State College of Sarasota-Manatee. Formerly known as Manatee Community College, the State College of Sarasota-Manatee officially adopted its new name on July 1st after its board of trustees voted to pursue four-year workforce degrees and become a "state" college.
As recently as this year New College of Florida was named the number two best value in a public college or university by The Princeton Review and USA TODAY; while it's Sarasota neighbor, the University of South Florida, was ranked among the top 50 on the same list of schools that offer exceptional educations at reasonable prices. With total enrollment approaching just 800 students, New College recently announced eight Fulbright Scholars for 2009-10. Amazing!
---
Argosy University

5250 17th St, Sarasota 34235

941-377-0617 & 941-379-0404

www.argosy.edu
East West College of Natural Medicine

3808 N. Tamiami Trail, Sarasota 34234

941-355-9080

www.ewcollege.org

Eckerd College

727-864-8226

4200 54th Ave S, St. Petersburg 34208

Everglades University

941-907-2262

6151 Lake Osprey Drive, Sarasota 34240

Fashion Focus Hair Academy

941-299-4639

2184 Gulf Gate Dr, Sarasota 34231

FL State Univ College of Medicine

941-316-8120

201 Cocoanut Ave., Sarasota 34236

FSU/Asolo Conservatory for Actors

941-351-8000

880-361-8388

5555 N. Tamiami Trail, Sarasota 34243

International College

888-609-3874

5603 34th St W, Bradenton 34210

Keiser University

1-866-keiser2

6151 Lake Osprey Dr., Sarasota 34240

www.keiseruniversity.edu

Lake Erie - Osteopathic Medicine

941-756-0690

5000 Lakewood Ranch Blvd, Bradenton 34201

www.lecom.edu

Manatee Community College

941-752-5000

941-408-1300

941-363-7000

5840 26th St W, Bradenton 34207

8000 Tamiami Trail, Venice 34293

7131 Professional Pkwy, Sarasota 34240

www.mccfl.edu

Manatee Technical Institute

941-751-7900 & 941-752-8100

5603 34th St. W, Bradenton

5520 Lakewood Ranch Blvd, Sarasota 34211

www.manateetechnicalinstitute.org
New College of Florida

941-487-5000

5800 Bay Shore Road, Sarasota 34243

Nova Southeastern University

941-748-3256

4125 Carlton, Bradenton 34201

Ringling School of Art & Design

941-351-5100

2700 N Tamiami Trail, Sarasota 34234

www.ringling.edu

St. Petersburg Junior College

727-341-7156

244-2nd Ave N., St. Petersburg

Sarasota County Technical Institute

941-924-1365

4748 Beneva Road, Sarasota 34233

Sarasota Institute of Lifetime Learning

941-365-6404

1001 Blvd of the Arts, Sarasota 34236

Southwest Florida College

877-907-2456 & 877-493-5147

Tampa / Ft. Myers

Stetson University College of Law

813-223-6824

1700 N. Tampa St., Tampa 33602

University of Phoenix

813-626-7911

501 N. Cattlemen Rd, Sarasota 34233

www.phoenix.edu

University of South Florida

941-359-4200

813-974-2011

8350 N. Tamiami Trail, Sarasota 34243

4202 E. Fowler Ave., Tampa 33620

USF – Academy for Lifelong Learning

941-359-4296

8350 N. Tamiami Trial, Sarasota 34243

www.sarasota.usf.edu/senioracademy

Webster University

800-820-8207

8043 Cooper Creek Blvd., University Parkway 34201

FOR MORE INFORMATION CONTACT

LINDA & STAFFORD STARCHER