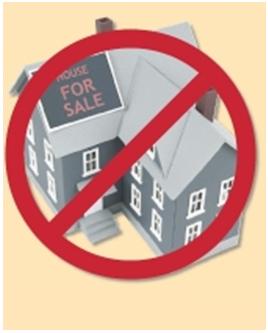 10 Ways Even Smart Sellers Kill Their Home Sales In Today's Buyer's Market
---
If you're intent on selling your home in today's market, you can't afford to make mistakes. After all, there's no shortage of competition from other home sellers who also hope to attract a purchase offer at a reasonable price.

In working with home sellers in today's new market, we've seen what helps sellers accomplish their goal -- and what doesn't. Here are the key issues you should pay attention to so as not to undermine the sale of your home.
1. Overpricing. The first few weeks on the market are critical to your home's sale. Buyers who've been comparison shopping for a home are eager to see new listings, hoping the home they seek (and can afford) will finally materialize. If your home comes on the market at a too-high price compared with other properties in the area, buyers will simply bypass your home. Days or weeks down the road you'll likely have to lower your price, perhaps even below market, to get any attention from buyers.
2. Selling without representation. Some home sellers are tempted to try the For Sale By Owner (FSBO) route in order to avoid paying a sales commission. While that is certainly understandable, testing the waters as a FSBO works to your disadvantage in the long run.

First, buyers expect FSBOs to be priced lower than homes sold through a real estate broker.

Second, few sellers are able to generate the kind of marketing exposure that brokers and agents (like us!) can give your home. That means a smaller pool of potential buyers and the headaches of marketing your home 24/7 without our professional network to back you up.

Third, if you find you can't sell your home on your own at a price you can live with, your next choice is to contract for a real estate broker to represent you. The buyers who didn't purchase your home at the price you asked while it was a FSBO will certainly not consider your home at a better price simply because you re-market it with a broker.
3. Poor condition. With so many homes to choose from, buyers quickly cross a home off their list if it is not in good repair or even if it's simply "showing its age." Make sure all systems, the roof, appliances, flooring and other components (windows, doors, lights, fans, electrical outlets, etc.) are in good shape and working properly. Also consider replacing treatments or fixtures that appear worn or out of style; replacing wallpaper with a neutral-color paint; repainting non-neutral-color walls.
4. Too much stuff. A home filled with too many pieces of furniture and too many knick-knacks feels crowded and messy. Pare your belongings down to declutter flat surfaces, open up traffic patterns, and create space in closets, cupboards and storage areas. (If you're not ready to part with things permanently, store them off the property -- a friend's place, portable storage, self-storage bay, etc. -- until it's time to move.) Be sure to put away personal items that associate you with the property (photos, awards, etc.) so potential buyers can better visualize the home as theirs, not yours.
5. Uncleanliness. Buyers are quickly turned off by dirt and odors. Give your home a thorough cleaning, top to bottom, inside and out. Then keep it that way. Don't forget the windows!
6. Unattractive exterior. Curb appeal is critical to getting buyers out of their cars for a look inside your home. A simple, clean, well-maintained look attracts interest. Less is more in most cases -- remove weeds and overgrown shrubs; keep the lawn clipped, edged, watered and fertilized; trim trees and shrubs; remove "yard art" and clutter. (A single pot of flowers and a fresh welcome mat near the front door may be all the decoration you need.) Consider power-washing your home's exterior or giving it a fresh coat of paint, if needed.
7. Restricting access. The more easily a potential buyer can tour your home, the more showings you are likely to have. Follow the norm in your area, and for your type of home, as far as what days and hours the home is available for showings, whether you request advance notification or that your agent be contacted first, whether to use a lock box, etc. (We'll be happy to make recommendations.)
8. Being present during showings. Today's buyers often feel uncomfortable examining a home while the sellers are present. Not only does your presence chill their inclination to take a thorough look, they'll also be less likely to verbalize their impressions of your home as they tour it. In addition, it isn't uncommon for sellers to impart information of one sort or another that buyers react unfavorably to or that hurt the sellers when it comes time to negotiate a contract. Even if you just step next door to a neighbor's home, make plans to be elsewhere when interested buyers come to visit.
9. Misrepresenting your home. Be sure to comply with local disclosure laws (we'll tell you what is required). Hiding a problem (e.g., placing a piece of furniture over a large water stain) only causes problems later, when your buyers have the home inspected or do a final walk-through before closing/settlement.
10. Being inflexible. It is particularly important at the negotiating table to consider all the elements of a purchase contract presented by the buyers -- and whether together they meet your needs. Resist the urge to get hung-up on small things -- such as which items convey with the property. It may help to assign an actual dollar amount to every item negotiated. For example, if the buyer wants occupancy a month earlier than you want to move, how much would it cost you to fulfill the buyer's request? Is that cost and inconvenience worth it -- given all the terms of the offer -- to get your home sold?
Linda & Stafford Starcher are ready to help you avoid the kinds of problems that throw a wrench in the process of selling your home. Give us a call and we'll be happy to develop -- at no obligation to you -- a complete marketing plan to get your home sold quickly and at a fair price in today's Real Estate market.